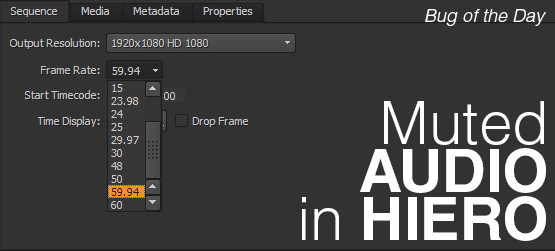 YOU HAVE BEEN INFLICTED WITH SILENCE STATUS
With the recent release of Hiero 1.9v1, I was thinking of not posting this problem on my site thinking it fixes the muted audio playback that I encountered in my project (which teaches me a big lesson in doing more prototyping in a new software).
What's up with the muted audio in Hiero issue? My audio playback fine!
So the problem here is that prior to Hiero 1.9v1, there is two frame rate playback that will result in muted audio during playback on any sequence.
The problematic frame rate is 29.97 and 59.94. While I don't have the luxury to try out Hiero on OSX and Linux to verify if the problem persists throughout different OS environment, the problem occur on my current workstation setup which is running on Windows 7 SP1 64-bit.
Any workaround to quench the thirsty throat of Hiero?
Good news, Hiero 1.9v1 finally fix the muted audio at 29.97 FPS although 59.94 still remain muted from my testing.
Bad news, there is no proper workaround other than working at the nearest rounded FPS which is 30FPS and 60FPS (for those who need to remain in older Hiero due to ongoing production).
The problem with rounding up from 29.97 to 30 FPS is the slight speed up (29.97 is 999/1000 * 30). So by converting the sequence playback in Hiero from 29.97 to 30 FPS resulted in approximate 0.001% speed up.
So a lengthy sequence will have noticeable impact from doing this conversion just to ensure proper audio playback.